From Charter To Champion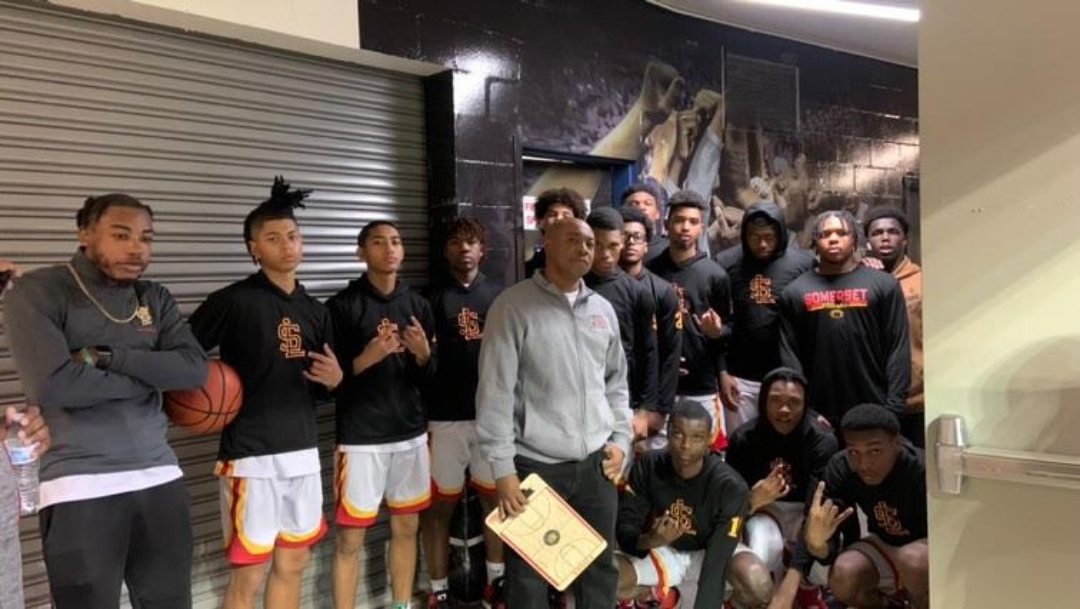 Only one State Champion last year won a title on the road. Over 300 miles from home in a driving Blizard, the Losee Lions went up to Reno and knocked off the defending state champion Elko Indians in the 3A Title Game. Because of the distance and less-than-favorable weather conditions, roughly 25 of their most loyal supporters were there to witness it. That didn't stop them from receiving their recognition
"We're walking out the tunnel with the trophy and we see all the Elko people standing there a hour and a half after the game. They started clapping"

– Darrius Banks
It took the coach a minute to realize that it was indeed he and his Lions squad receiving the literal standing ovation. It should come as no surprise, as it has taken a minute for the rest of the state to recognize the achievements of his team as well. Over the last two years, the coach has had Losee, a charter school of approximately 400 students, make back-to-back state appearances, culminating with the crown in 2023. The geniuses of that state title took place Sept 1st of 2022, when the coach, having come off a Semifinal defeat at the hands of Elko, had an epiphany.
"I text my staff, September the 1st (2022), that we were going to win the state championship" "My coaches asked me how do I know, and I told them that it's because these dudes are able to run these sets masterfully without me saying anything".

– Coach Banks
To be fair the coach could afford to be confident, he was armed with a stable of young, talented players with a burning desire to avenge the previous year's defeat, with each looking to silence their own critics.
This year, the Lions have new critics, as their move up to 4A leaves some questioning if they have what it takes to enjoy similar success. Making it even more intriguing, those young talented players, are now veteran champions, starting with Malachi Richardson, a long-armed lefty, who mans the paint and is one of the best shot blockers in the state. Roderick "Quick" Johnson, has overcome his lack of size, using the ultimate equalizer, en route to becoming one of the best pure shooters in the state. Then there is Christin Haylock, a rail-thin, long-armed playmaker who does a little of everything for the team. Those three form the core of a deep and talented squad that has taken on the persona of their highly competitive coach.
"They're becoming like me, I'm allegic to losing"

– Coach Banks
The Lions will hunt in a Pride this season, as judging by the workout, they look to go 9 or 10 deep and are at least 2 deep at every position. Johnson and Haylock are matched with Antwan Jones, a tough hard-nosed football-playing guard, who was the leading scorer in the state championship game. On the wings, they have Jordan Finley, and Kesean White, two lanky, athletic, two-way players that fit perfectly into the coach's pressure defense system. The normally solo Richardson, has a frontcourt mate, as he is joined by Zion Gayle, a 6'5 genetic freak with pogo stick-like bounce. They even have a pair of football players, as Jones is joined by sophomore bully forward Kirean Daniels. Losee is indeed loaded, but the question still remains, can they do what very few programs have been able to do, make the jump up while competing at the same level, much less a Charter School? The coach, a self-described historian of the game, understands just how difficult that is to do.
" Democracy had a great run in 2A when Trev was there, but what happened when they moved up"? "They were still competitive, still well coached, still got after it, but just couldn't quite get over the hump and that's our challenge."

– Coach Banks
Challenges are nothing new to the coach and his team, as being counted out is a role that they all relish.
"I love being in the underdog role, I've always been there. I'm a told you so guy, and I'll go on record and say, I'm rarely wrong."

– Coach Banks

If he's right again this year, he has one of the most iconic dance groups in history to thank for it, as the coach's epihany came this year while watching the Jaberwakeez.

"I went to see the Timeless show the other day and realized we're about to win it again" Because since 2006 the Jaberwakeez have been killing it, and since 2003 I've been killing it, so I have to make sure that I don't fall off"

– Coach Banks
Bruce Williams is an NCAA Certified Scout who covers basketball in Nevada.
He is the senior regional writer for PrephoopsNevada and Prephoopsnext.
He is a UNLV Insider for the Runnin Rebel Report.