Former Rebels Legend Returns To Coach Youth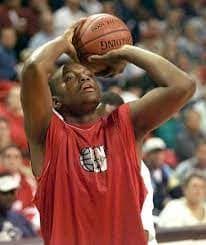 Las Vegas, NV
Sunday, Nov, 5th
Tarkanian Basketball Academy 2730 S Rancho Dr, Las Vegas, NV
Former UNLV Runnin' Rebel Basketball
Lou Kelly has agreed to coach at a local youth camp. The Las Vegas Middle School Combine is a competitive youth camp for some of the top players in the city. Kelly brings over 25 plus years of experience to the camp as a player, and coach. The 6'5 Swing man was named by the Review-Journal Sports as one of the 60 greatest Rebels of all time.
Career highlights:
■ Averaged 15.6 points and 4.2 rebounds in 2001-02, his only full season.
■ Established a Mountain West tournament scoring record with 35 points in a 120-117 double-overtime win over New Mexico on March 7th, 2002
The Las Vegas Middle School Combine is a unique camp that allows middle school basketball players to hone their skills. During this combine style event players will participate in
Official Measurements
Vertical Testing
Shooting Testing
Skills Training
5 V 5 competitive play
The Combine also features
This is a competitive exposure event and media will be in attendance. Players receive
Gift Bags
Write-ups in Prephoopsnext
Highlights via Balldawgs
Live stream courtesy of The 7outz Channel
The #LVmiddleschool combine takes place Sunday, Nov 5th Tarkanian Basketball Academy
Registration is currently open. Sign Up Below.