Titans Triumph: Wrightsell Helps Fullerton Advance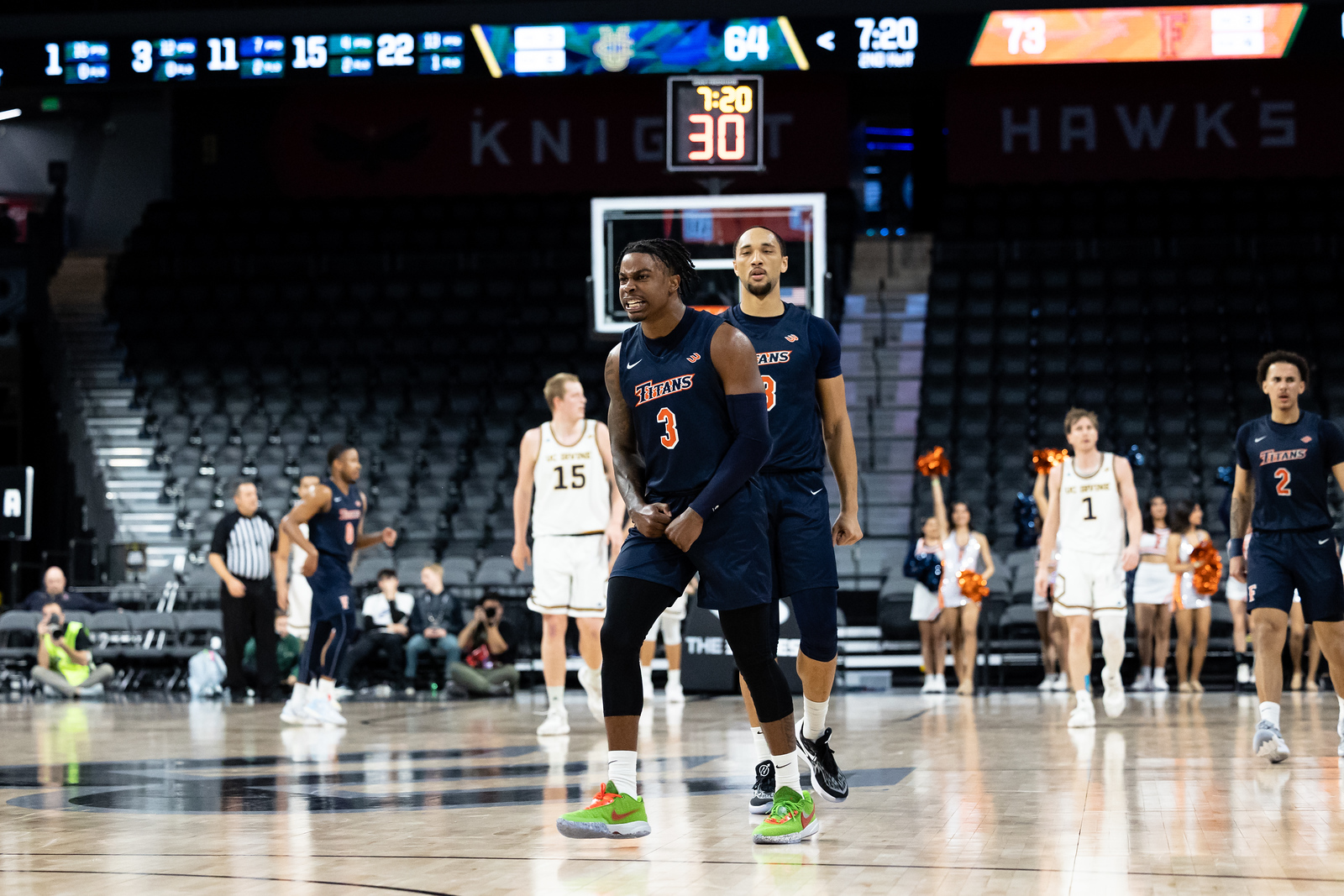 Henderson, NV
The energy was in the building for the first semifinal of the night which saw Regular season Co-champ UC Irvine take on last year's Conference representative Cal St Fullerton in a heavyweight matchup. In what was assumed to be a defensive contest, both teams came out on fire shooting well over 60% for the 1st half of the 1st quarter. Irvine who entered the game as one of the top three-point defensive teams in the country, watched as the Titans burned up the nets. Tory San Antonio was one of the most consistent flamethrowers hitting his first 3 three-point attempts of the game, and 4 of his first 5 field goals overall. The Anteaters battled back using a 7-0 run to tie the game at 36. After a Latrell Wrightsell and 1, the Anteaters sent the game to halftime tied at 36 with a 35 foot three point bomb from DJ Davis.
The second half saw Fullerton take control of the game again, using a combination of good passing, and shot-making to jump out to a 6-point margin. Latrell Wrightsell's three-point basket with 7:22 to go pushed the lead to nine. The Anteaters would rally behind the play of Dawson Baker whose two free throws cut the lead to two with 2:39 remaining. The Titans would go up 4 after Wrightsell sank two free throws, but DJ Davis was fouled on a three-point attempt and made all three free throws to cut the lead to 1. After Jalen Harris made two free throws, the Anteaters got the ball back down three. A DJ Davis' mishandle led to a wild scramble with several players hitting the floor for possession. Eventually, a jump ball would be called, and possession would stay with Irvine with 2 seconds left. After a timeout DJ Davis' desperation three went begging and the Titans survived. Despite the Anteaters being one of the top three-point shooting teams in the league, the Titans shot 58% from behind the three-point line. "We have four guys on the floor that shoot the ball really well, and four guys on the floor that really bought into creating for someone else" Fullerton Head Coach Dedrique Taylor.
It wasn't just the guys on the floor that bought in, as the Titans played behind a partisan crowd featuring fans, alumni, and former players at DLC, showing just what type of culture coach Taylor has built. We have to take some losses that may not appear as though we should, but we have to take them to be able to learn to become who we are. Dedrique Taylor. What they are, is a program that has advanced to the Big West Championship game in 4 out of the last 5 seasons.