Rebels Visit Henderson For The First Time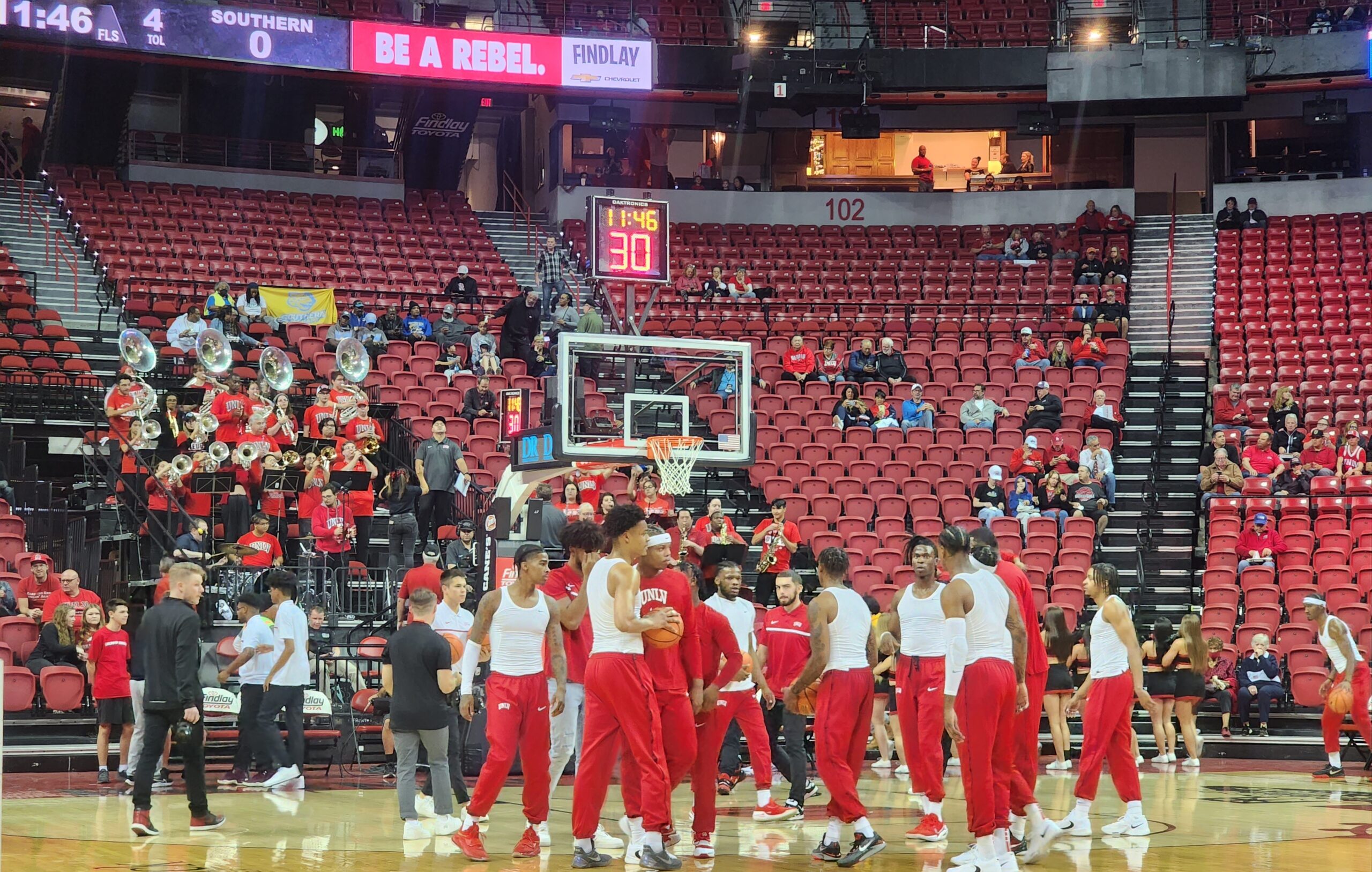 After starting the season 8-0 for the first time in 11 years, which has included a win over then-No. 21 Dayton and capturing the SoCal Challenge title just before Thanksgiving, the UNLV men's basketball team will play in Henderson for the first time ever as it faces Hawaii at The Dollar Loan Center on Wednesday, Dec. 7 at 7 p.m.
his season's UNLV squad features six returners, nine newcomers, including six transfers from the Division I level, and a total of 10 upperclassmen. The lone returning starter is 6-foot guard Jordan McCabe, who was a senior last season and returns for his fifth year for 2022-23. Other returners include 6-3 senior guard Justin Webster, 6-10 senior centers David Muoka, 6-4 sophomore guard Keshon Gilbert, 6-7 senior forward Victor Iwuakor and 6-3 senior guard Cameron Burist.
The newcomers include 6-10 redshirt sophomore forward Isaiah Cottrell, who is originally from Las Vegas and transferred to UNLV from West Virginia, 6-7 freshman guard Keyshawn Hall from Cleveland, Ohio, 6-3 fifth-year guard EJ Harkless, who transferred from Oklahoma, 5-11 sophomore guard Jackie Johnson III, who transferred from Duquesne, 6-10 junior forward Karl Jones, who transferred from LA Southwest College, 6-6 sophomore guard Shane Nowell, who transferred from Arizona, 6-4 fifth-year guard Elijah Parquet, who transferred from Colorado, 6-6 senior guard Luis Rodriguez, who transferred from Ole Miss and 6-1 junior guard Nick Walters, who transferred from the College of Southern Nevada.
After eight contests, Gilbert leads the team in scoring with 14.6 ppg, while shooting 54.5% from the field and 58.3% on 3-pointers, in addition to averaging 3.8 assists and 1.9 steals per game. Harkless is scoring 14.5 ppg with 4.1 rebounds per game and 3.1 APG and 1.4 SPG. Rodriguez is also averaging double figures in scoring at 11.9 ppg and rebounding with 5.8 RPG, while leading the team in steals at 2.4 per game (28th in the nation). David Muoka is leading the team in rebounding and blocks with 6.4 RPG and 1.6 bpg.