Big West Tournament: Bakersfield Bounces 'Dors: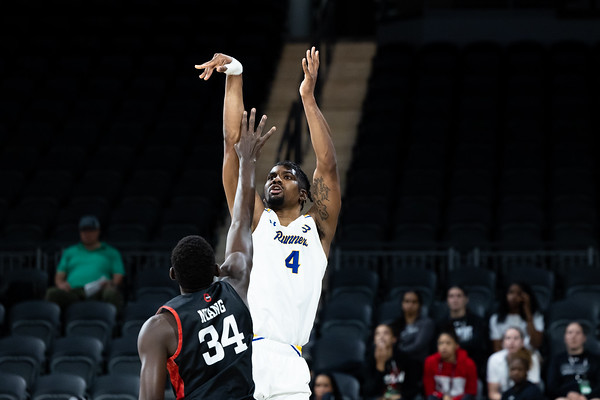 Roadrunners use a stifling defense to get past Cal St Northridge in opening-round action.
Tuesday, March 7th Henderson, NV
The Opening Round of the Hercules Tire Big West Tournament presented by Hawaiin Islands got underway Tuesday night at Dollar Loan Center, as Cal St Bakersfield faced off against Cal Northridge. The two teams entered the game a combined 17 – 45 which earned them an 8 and 9 seed respectively. Behind a Partisan crowd, and a tenacious defense, the Roadrunners jumped out to an early 13-10 lead. Defense buoyed Bakersfield throughout the first half as they used a combination of full-court man and an aggressive half-court attacking defense to frustrate the 'Dors and extend the lead to as much as 7. Northridge got a lift when Freshman Cam Slaymaker came alive late in the first half scoring 5 straight points, and 7 in the half to help CSUN tie the game. The Matadores would eventually take a 26-24 lead into the half.
CSUN would continue their hot shooting in the second half, behind the play of sophomore guard Atin Wright. extending their lead to 5 at 35- 30. The Roadrunners would come right back, scoring the next 6. The teams would take turns trading baskets, and Cameron Smith's layup tied the game at 42 with 4:49 remaining. The Roadrunners would go up by two after a Nassem Gaskin layup, only to see Ethan Igbanugo tie the game at 44 with a jumper. After two free throws from Cameron Smith, De'sean Allen Eikens split a pair, and it was 46 – 45 with 1:13 remaining. The teams would trade a pair of free throws and with 21.6 left, Junior Antavion Collum would make a pair of free throws to increase the Roadrunner's lead to 3. Northridge would have one last chance, but Cameron Slaymaker's jumper went begging, and Bakersfield would hold on for a 51-47 victory.
Bakersfield was led by the play Collum who finished with 16 points to lead all scorers. Cameron Smith and Travis Henson chipped in 10 and 11 points respectively. CSN was led in scoring by De'Sean Allen Eikens who led the team with 13 points. The Roadrunners did a much better job on the Matador's leading scorer Atin Wright who torched them for 28 points in his previous meeting. The sophomore guard, who was the primary focus of the Roadrunner's defense was held to 10 points on 4-16 shooting. "Our focus was to try to just limit him" He's a great scorer, you're not going to just stop him from scoring" – Rod Barnes Cal St Bakersfield HC. That Roadrunners defense focused on more than just Wright, as they held the Matadors to 31% shooting for the game including 3-18 from behind the three point line.
With the win the Roadrunners advance to play # 1 Seed UC Irvine in the Quarterfinals on Thursday.