Ajay The Assasin: Mitchell's Heroics Help UCSB Advance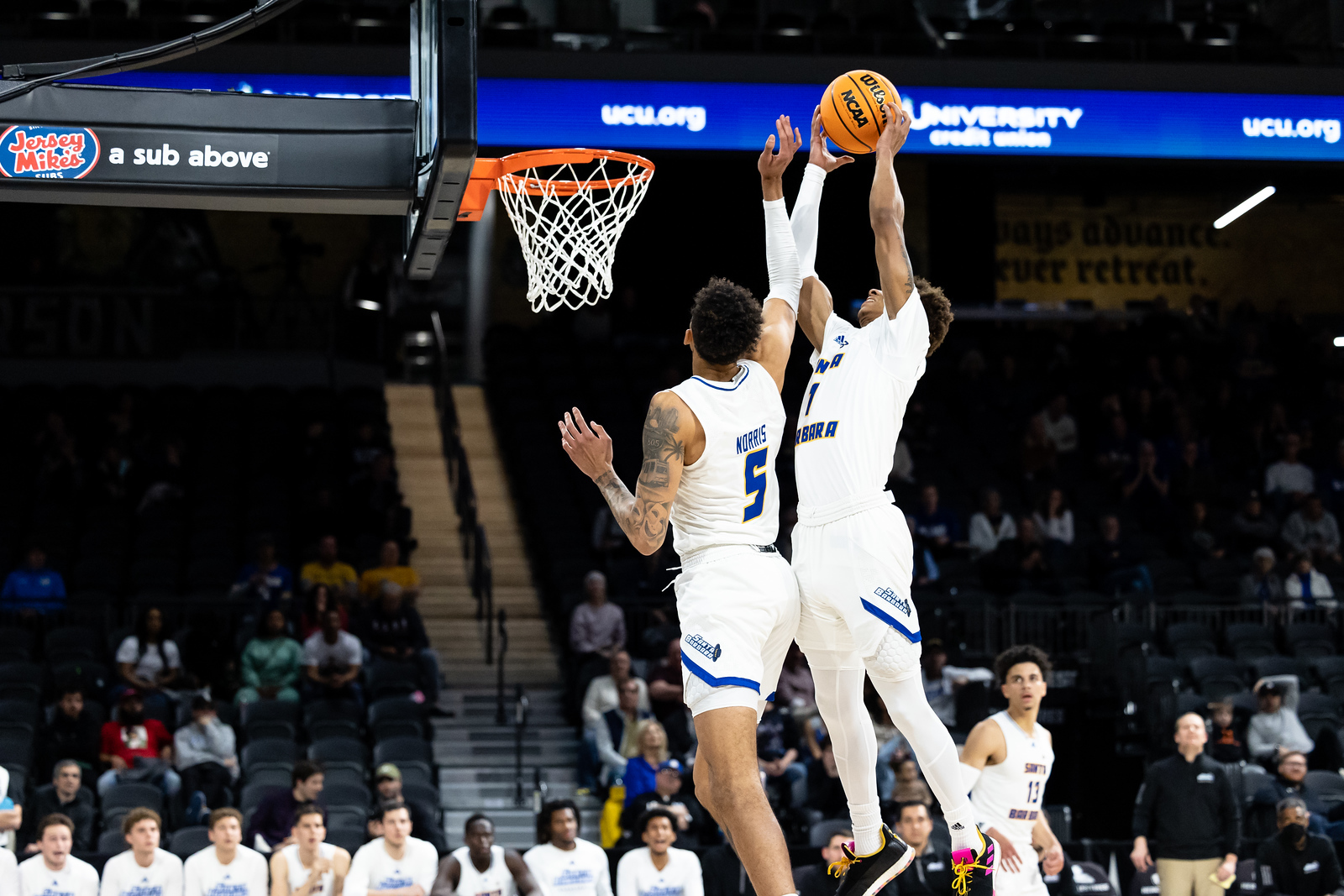 Mitchell scores 22 in the second half to propel the Gauchos to the Win.
Henderson, NV
The Cal Poly Mustangs entered the Big West Tournament on an 18-game losing streak. They didn't play like a team that hadn't won a game since December however. The Mustangs battled the #2 seeded UC Santa Barbara Gauchos in semifinal play of the Herculean Tire Big West Tournament. The Gauchos who entered the game as heavy favorites got off to a sluggish start making only 1 of their first 5 shot attempts. The Mustangs meanwhile got early contributions from forward Alimamy Koroma, who dominated from two feet in. The underdog Mustangs would build up a lead of as much as 10 before a 5-0 run cut the lead in half. Poly would nurse that margin all the way to the break, going into halftime leading 36-33.
As to be expected the Gauchos responded in the second half, shooting a blistering 53% during the first 10 minutes of the half. The second half would see the Big West player of the year Ajay Mitchell start cooking, using an array of step-backs to create space for his shot. His layup at 11:09 put Santa Barbara up for the first time since early in the first half. Mitchell's three at 8:31 would give the Gauchos their biggest lead of the game at 6 and his free throw would put the Gauchos up by 9 with four minutes remaining. The Mustangs could get no closer than 6, after Cameron Pierce's layup. Calvin Wishart's two free throws would push the lead to 64-54 and that would be the final margin of victory for the Gauchos.
It was a remarkable second-half turnaround for the Gauchos who shot 54% in the frame. Ajay Mitchell scored 22 of his game-high 24 points in the period and the Gauchos outscored the Mustangs by 16 in the second half. Santa Barbara will go on to play the winner of UC Davis and UC Riverside.